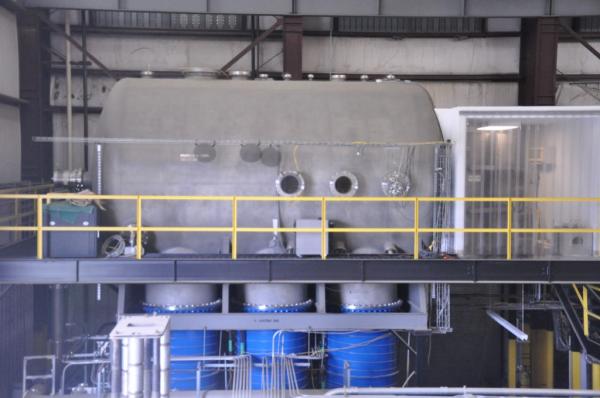 Quick Facts:
14-ft diameter by 22-ft long
Base Pressure: 10 e-7 Torr
Pumpdown Time (Atmospheric pressure to 10-6 Torr): 2 hours
Personnel entry door measuring 5-ft by 6-ft
Chamber penetrations for power, data acquisition, and high-pressure liquids and gases
1-kW VWR Polyscience 1173-P Recirculating Chiller
Six 48-in diameter, Polycold-baffled, electrically heated, oil diffusion pumps (pumping speed – 600,000 l/s N2)
Chamber floor designed for a load of 2 tons
Large experiment assembly area
30-ton capacity overhead crane
Cooling tower water to dissipate waste heat produced by Polycold compressors and vacuum pumps
Equipped to work with both flammable and toxic gases
​
The Vacuum Test Facility 1 is 7 meters long and 4 meters in diameter. This facility is designed to test high-power electric propulsion devices. It is the largest diffusion-pumped vacuum facility at any University in the nation. The chamber is evacuated by two 3800 CFM blowers and two 495 CFM rotary-vane pumps to moderate vacuum between 30mTorr and 100 mTorr. To reach high-vacuum (10-7 Torr), the chamber employs six NRC/Varian HS48-95,000 fractionating diffusion pumps, with a combined pumping speed of 600,000 l/s on air, 840,000 l/s on Hydrogen, and 155,000 l/s on Xenon. Two internal linear tables and one rotary table are robust enough to investigate plume and discharge chamber characteristics in devices of up to 100 kg. The thrust stand is a duplicate of the proven null-type inverted-pendulum thrust stand used to test high-power Hall thrusters (NASA-457M) at the NASA Glenn Research Center. The thrust stand is actively cooled by a VWR Polyscience 1173-P recirculating chiller. The facility can be configured to accommodate a wide variety of vacuum experiments.
There is great interest in operating high-power thrusters on hydrogen and other light gases. Diffusion pumps are the best candidate for pumping large mass flow rates of light gases. The VTF-1 has one the highest pumping speeds of any diffusion-pumped facility in the nation. Thus, the use of the VTF-1 is critical if the nation is going to evaluate high-power light-gas thruster operation in a high-capacity vacuum facility in the near future.
Turbo Pump:
The VTF-1 is also equipped with a turbo pump package to allow testing of more chemically active propellants that are incompatible with diffusion pump operation. The pump is an Edwards STP-XA3203 turbomolecular pump with a pumping speed of 3200 l/s (on N2). The XA3203 is backed by an Edwards GV80 dry scroll pump with a maximum pumping speed of 64.6 cfm.
Gas Feed System:
The gas supply storage area is located on the outside of the building, and is comprised of two ventilated bottle enclosures.  The flammable gas enclosure has a capacity of storing up to 1800 cubic feet of flammable gases; the toxic gas enclosure can store up to 300 cubic feet of both toxic and flammable gases.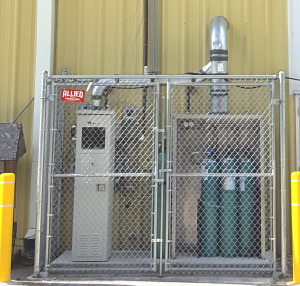 ​
The flammable and toxic gas feed lines, which can be heated for specific gas conditioning requirements, run into the lab and enter a stainless steel ATEX-rated purge enclosure.  The enclosure is designed to be continuously purged with a low-pressure nitrogen flow, which is ventilated through the facility exhaust.  Two MKS P9B multi-range/multi-gas mass flow controllers (MFCs) reside inside the purge enclosure, allowing for high precision control and/or mixing of the supply gases prior to feeding into the chamber.  The enclosure, measuring 30" x 20" x 8", provides ample volume for any additional custom plumbing or gas conditioning needs.